For 8 months I have used Mailchimp to capture email subscribers. Three months ago I switched to Aweber, click here to learn more.
In this article I am going to show you why I switched to Aweber and why you should too. I don't usually review products aside from my usual niche, but by popular demand here it is!
Your email list is the foundation of your blog and connects you with your potential customers. It is vital that you set yourself up with the best software from day one, capture the email and build an lasting relationship.
What is Aweber?
Aweber is the pioneer email marketing company that was founded way back in 1998 and since then it has built a mass base of loyal and satisfied customers. It has been the top choice for bloggers and business people around the globe because of its exclusive and dynamic features.
Why did I switch?
I switched because of its outstanding reputation. I first heard of Aweber from the man who makes $100000 per month from blogging, John Chow. He was an high advocate of Aweber so I decided to sign up for the free monthly trial.
Needless to day, I was blown away! Before I go into my usual rambling, I will list below all the features that was used to win me over  Let's take a detailed in depth look at the services provided..
Templates
You are provided with a large range of custom sizable templates that could be used for multiple purposes. These templates are carefully designed to cater diverse needs of clients. AWeber even provides users with an option to create their own template, for this matter a drag drop interface is provided to interested users. 
Creating a template is the big first step to collecting subscribers. Once created, forms can easily be added to posts or pages on your website, your business Facebook page and easily distributed through other social media platforms. Below you can see me creating an template. This is what the interface looks like when you are about to start.

Ebook Integration
Like most bloggers, I give away an eBook as a free incentive people subscribing to my newsletters. When you subscribe by email with Aweber, you get an instant confirmation email with an link to my eBook attached. You just have to upload your book online to Dropbox or Google drive and past the link into your email. You can also redirect subscribers to an "thank you" page, and promote other products as well. Ebook integration is important for two reasons:
Speed 


People lack patience and want things fast. With Aweber they get the product as soon as they subscribe.

Professionalism


Fast and clean this program looks professional and flexible 
Being able to send goodies is one of the top strategies for any blog. This is one of the main reasons why I switched. You can see below that all you have to do is place the download link in the body.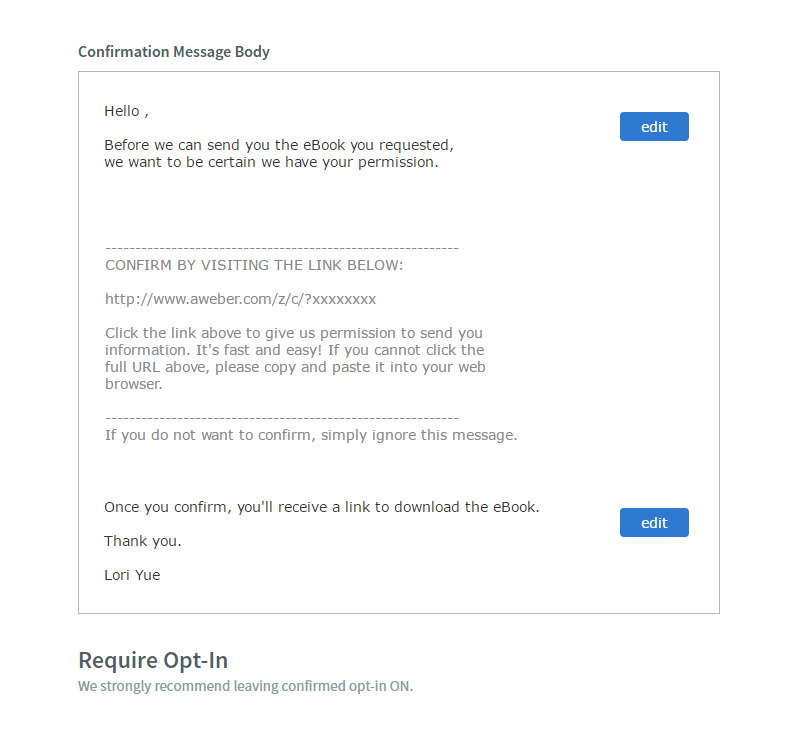 Easy Management
Visual and easily understandable charts are another perk that is offered. It is important to analyze how the current campaign performed so that users can take appropriate steps to optimize next campaign; AWeber has the finest analyzing tools and features like segmentation and subscriber management to track its users. These features not only make email management easy but other things you can track includes Daily Subscriber Growth, Weekly Subscriber Growth, Subscribe Method, Countries, Verification Time and more! Below is an example of what the analytics would look like.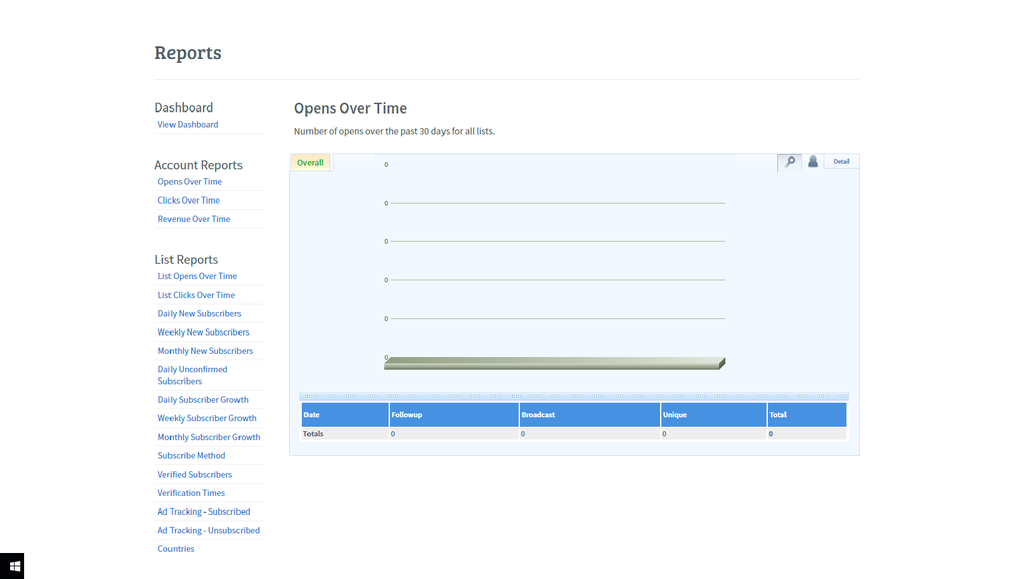 Highest Delivery Results
Undeliverability is the biggest nightmare of email marketers, but with AWeber users enjoy unprecedented advantage of high delivery rate. Since AWeber is the pioneer in email marketing they thoroughly have the best automated and proactive system in place.
Some users have reported the delivery rate to be greater than 95% which is simply astounding as this rate skyrockets the opportunities to engage subscribers. AWeber has powerful servers which ensure that the sent mail lands in the subscribers' inbox; this efficient delivery rate is the first and foremost reason behind it's prodigious success.
Automatic Messages
One of the biggest reasons for switching  is the ability to send automatic emails to your subscribers after a set amount of time. This is an amazing opportunity for you to connect with your email subscribers establish yourself as an "expert" in your niche.
For example, you can send an thank you message when somebody first subscribes to your blog. Two days later you can send a email establishing yourself as an expert in your "niche". The next day you can send an email recommending and suggesting products to your subscribers. All this is automatic so you don't have to touch a thing! Below is an example of the automated message interface.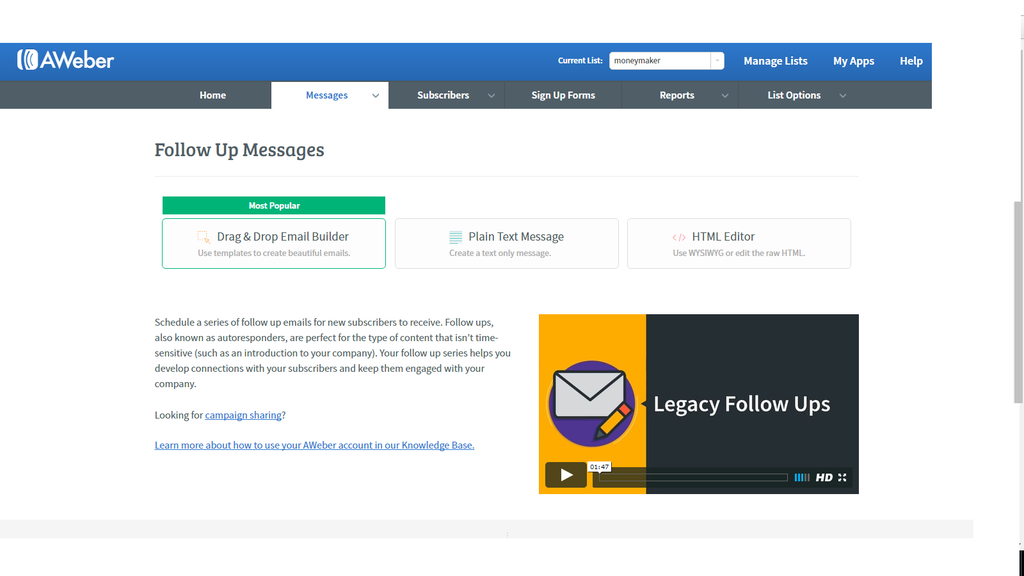 Potential for More Money
If your goal is to make money blogging then Aweber is a must! The fact that you can send automated follow up messages is the crown jewel of this system. You have to realized that business are built on repeat customers. No business can survive on people only using their services once.
Let's say you run a blog about shoes. You would go into the back end and set up a couple follow ups. The first follow up is to a free eBook. Then the next day, another automated email for a blog post on shoes is sent out. On the third day, your automated email sends out an email suggesting shoe related products from amazon. Do you understand it yet?
If you have 10000 subscribers and one percent converts, your looking at a least 100 people purchasing your suggested products. You can easily make a couple hundred bucks! The best thing is that this process requires little time and is all automated.
The key is to send out a series of constant automated emails that you manage once every few weeks. If your blog provides enough high quality content and adds value to your readers life, then using this software will increase your money earning potential. If your interested in Facebook marketing then check out my free ebook guide.
Trust Worthy and Reputable Company
AWeber is a trust worthy and reputable company that has been serving masses for over a decade. They have a good reputation and millions of people their product. You can rest assure that you will be provided  with everything you ever need.
Customer Service
Online support is crucial for online service providers and this has simply the best. I still remember my first time on Aweber and running into trouble creating templates. I contacted the staff and got an response almost immediately! My problem was literally solved within minutes with customer service guiding me the whole way. The customer staff takes care of users and clients in every possible way. Not only do they have a 24/7/365 live support center but the company also offers video tutorials for newcomers which have been deemed as extremely helpful. Moreover online seminars and active forums also serve as helping platforms.
Atom App
Aweber offers its own users an app that simplifies the lives of active bloggers and other business personals. It helps you grow your email list in the simplest way, by allowing you to add new subscribers to your email list anytime and anywhere. Some of the features of the app include:
Checked Scheduled Broadcasts 


Allows you to have 360 degree view of your campaign anytime and anywhere.

Stats Tracking


Allows you to keep tabs on individual subscribers and see how they interact with your messages.

Opens and Clicks


Check your recent subscribes and unsubscribes and bounce rates 
The atom app is great if your traveling and always on your phone. Going to your computer to manage your email list can be time consuming and inefficient. Now you can do it from the comfort of your own mobile pone. Available for all apple and android devices.
Free Trial Period
Aweber offers an free 30 day trial period when you first sign up. This is an perfect opportunity to see if this is right for you.  After 30 days you can opt for the cheapest plan which is 19 dollars every month with an limit of 500 subscribers and everything else included. I have included a picture of the full pricing agreement below.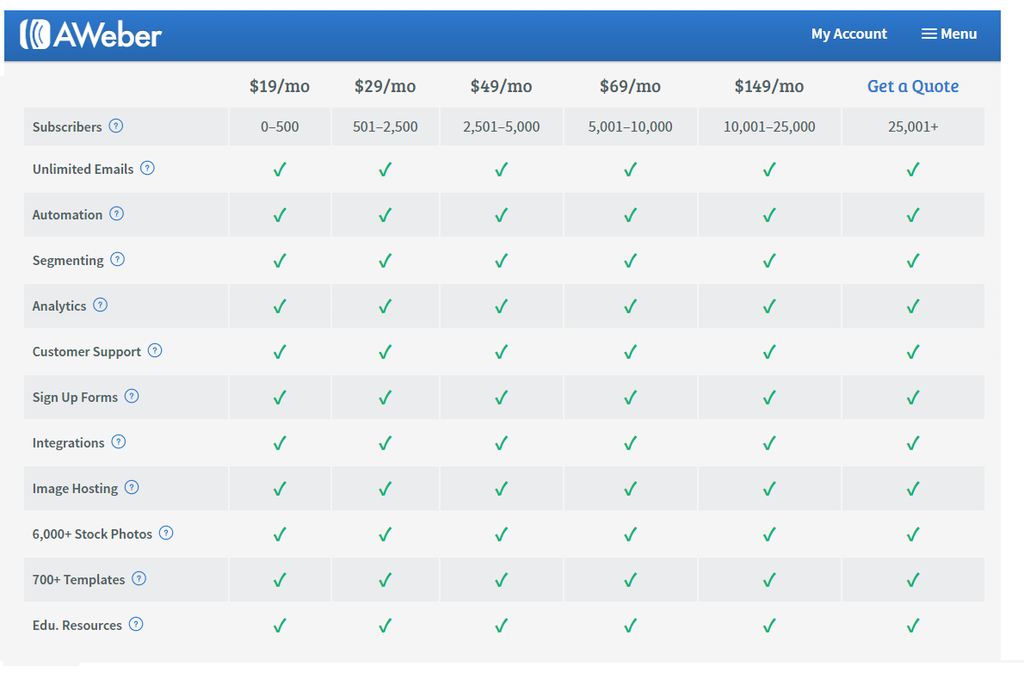 Programming knowledge
Customizable templates do not require basic programming knowledge and is essentially drag and drop. This is great for anyone like myself who is a "newbie" and lack programming skills.
Instructional videos
When I used first used Aweber I was amazed at the instructional videos presented. I went to create a list and template for the first time and was automatically greeted with a quick tour guide. The guide helped me set up my list and templates in under 10 minutes!
Try AWeber free for 30 days! – AWeber CommunicationSummary of Benefits
I know the post is packed with information so some of you might feel lost. Here is an quick summary for anyone who is considering switching over.
eBook integration and delivery

Automated follow up emails

Hundreds of customizable templates

Monitor your subscribers

Less work

Free trial for one month

Must have for blogs looking to make money
What are your thoughts on Aweber?
Based on the responses, I know that some of my loyal readers have already tried Aweber. I believe that this is a must have for any serious blogger, and it has my highest recommendations. form aweber
So that begs the question, will you be trying Aweber? If you feel overwhelmed at the amount of information that I provided, feel free to drop a comment below and I will reply ASAP. You can visit the official page by clicking here.
a

weber