Does Coke Zero have caffeine, a intriguing question that people seem to bring up all the time.
Coca-Cola Zero is a popular drink that is based of the original Coca Cola. Coke zero was released in 2005 in order to target the adult male market.
Many of us know people who can't go on a single day without a Diet Coke. Despite its popularity, many young adult males identified the beverage as a woman's drink. In response to this, Coca Cola released a beautiful black can and labeled it Coca-Cola Zero.
As the drink grows in popularity, they recently started appearing in other flavors such as:
Original

Cherry

Vanilla

Caffeine free
Does Coke Zero Have Caffeine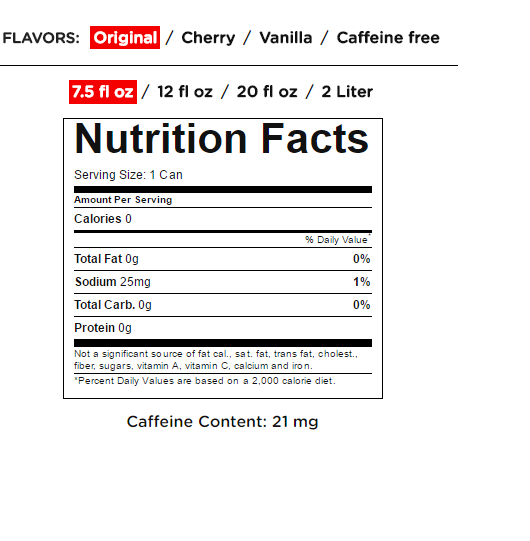 Does coke zero have caffeine, have you jumped to a conclusion after seeing the image above? As you can see, Coke Zero does contain a decent amount of caffeine in their drinks. The only exception is caffeine free Coke Zero that contains zero calories and no caffeine. 
You can learn more by visiting colaproductfacts and reading their article on Coca Cola Zero.
To summarize the information above:
Original flavor:
7.5 fl oz has 21 mg of caffeine
12 fl oz has 34 mg of caffeine
20 fl oz has 57 mg of caffeine
Cherry flavor:
12 fl oz has 34 mg of caffeine 
16 fl oz has 45 mg of caffeine
20 fl oz has 57 mg of caffeine
Vanilla flavor
12 fl oz 24 mg of caffeine

20 fl oz has 57 mg of caffeine
For comparison, 400 milligrams of caffeine is the recommended daily allowance. This means on average you can drink 8 to 10 Coke Zero beverages until you start going over your daily allowances. 
To compare it even more, 6 fl oz of regular coffee contains around 72 milligrams of caffeine.
Bottom Line: Expect anywhere between 20 to 60 milligrams of caffeine when drinking Coke Zero beverages. 
Coke Zero Ingredients
Just like caffeine, it's also good to know the ingredients in a can of Coke Zero. The ingredients include:
Caffeine

Caramel Color

Carbonated water

Phosphoric acid

Aspartame

Potassium Benzoate

Natural flavoring

Potassium citrate

Acesulfame Potassium
Bottom Line: Coca-Cola Zero contains artificial sweeteners and caffeine.
Where to Buy Coke Zero
Do you live in an area where Coke Zero is not available? In that case, Amazon is a great place to look at with good discounts. For example:
Caffeine in Coke (regular)
Do you know how much caffeine is in a 330ml can of Coca-Cola Classic? You can find this answer by watching the quick video blow.
This can help you make an educated guess on which beverage is more suitable for you.
To Sum it Up
Personally, I would drink a cup of water with some freshly squeezed lemons over Coke Zero any day. 
Just remember that Coke Zero does contain caffeine and is safe to drink but always use moderation. 
Bottom Line: Does Coke Zero have caffeine? Yes it does
Click here to read my post on top Yogurt Brands to eat for weight loss.